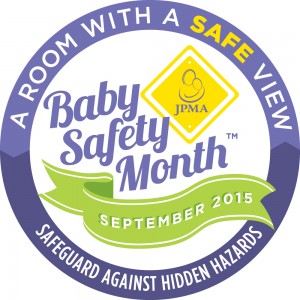 September is Baby Safety Month, an annual event designed to increase parental awareness of safety issues. At Safe-Strap, we're committed to keeping children safe – both in, and out of the store.
Here are some tips to keep your baby safe this month, whenever you venture outside the home:
At the playground: When enjoying some time at the park with your little one, steer clear of the infant bucket swings until your baby has developed proper head and neck control and can sit up unassisted. This usually happens around six months.
In the car: A staggering seventy-three percent of car seats are not properly used or installed. Before strapping in your baby, follow this car seat checkup list from Safe Kids.
At the pool: As your older children take swim lessons, they may want their younger siblings to join. However, just like with swings, wait until your baby can hold up his or head before introducing your little one to the water. And, of course, make sure your child always wears a flotation device.
In a boat: Boat rides can lead to great family memories, but before climbing aboard remember the Coast Guard's Advice and wait until your baby weighs at least 18 lbs and can wear a flotation device. Most babies reach 18 lbs between four and 11 months.
At the grocery store: Never balance your baby's infant carrier on top of the shopping cart, where it can tip over. Instead, use Safe-Dock, the universal car seat docking station, to keep your baby secure while you shop.
By following these tips, you'll be able to keep your baby safe this September – and beyond.
For more information on Baby Safety Month, visit jpma.org, and use the locator on this page to see whether your local store provides Safe-Dock to keep your infant safe while you shop.