How to Shop Safely with an Infant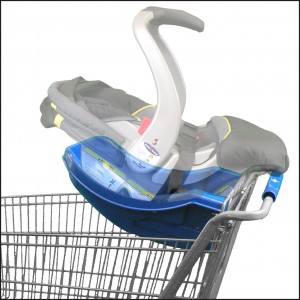 Have you seen this cart at your local store? This cart, equipped with Safe-Dock, allows you to safely dock and strap your infant carrier to the cart while leaving room for groceries.
Wherever you take your baby, safety is always your number one priority. But when you're shopping, where you place your baby in the cart might not be safe. Personal infant carriers are not designed to be placed on shopping carts – leading to hundreds of accidents in retail stores each year. In fact, car seat manufacturers and grocery cart manufacturers both warn against using infant carriers with shopping carts.
Where Can I Put My Infant Carrier?
Putting your carrier in the cart leaves no room for groceries and "balancing" it on the handle is too risky. To safely shop with your baby in a carrier, look for carts equipped with a Safe-Dock, which is a universal carrier dock for shopping carts. The Safe-Dock is part of the shopping cart and is safe. In fact, the leading carts used in retail stores were independently tested to make sure Safe-Docks and carriers would not adversely affect the cart's stability. The people who invented the shopping cart seat belt for young children – Safe-Strap, which is required for every cart in America, developed this universal dock for strapping in infant carriers. Safe-Docks are SAFE, non-toxic, clean and feature a heavy-duty buckle to make sure your baby carrier is secured. Your baby will be safe and you'll have room for groceries too!
Many stores have already installed installed Safe-Dock on their carts. To see what stores have Safe-Dock near you, enter your ZIP code on the right side of this page. If your favorite store doesn't have Safe-Dock, click on the store name in your ZIP code search. From there, you have the opportunity to send an email telling them "I want Safe-Dock!"