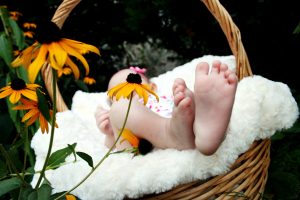 As the May flowers begin to arrive in full bloom, we know summer is right around the corner! With summer comes new opportunities to explore and enjoy time with your infant, but it also brings with it a new set of hazards and challenges. Check out some safety tips for summer and get the season's fun started with your family!
Prepare before you play:
When it's summertime, there a few precautions you should take before you bring your child out into the heat. Dress your little one appropriately with essential sun gear like a hat and breathable clothing to help protect their sensitive skin from those powerful rays, and don't forget the sunscreen to protect any areas you may not be able to cover with clothing! There are special sunscreens created for small children, so do your research to purchase a protectant with the best formula. When you're shopping for these essentials, take the time to visit a store that's dedicated to keeping your baby safe while you shop. Check to see if your local store carries a Safe-Dock.
Temperature check:
Summer temperatures can escalate quickly, so be prepared to give baby a break when it's necessary and be on the lookout for any signs indicating they've been exposed to the sun for too long, such as fatigue or flushed skin. If you know you will be outside for a prolonged period, look for a shaded area that could provide some relief for the whole family.
Plan activities with baby in mind:
Most activities are perfectly safe for your baby, but keep in mind you need to take extra precautions for summer fun. When bringing a baby to the pool, be mindful of how long they spend in the water to guard against infection and exhaustion. If you're headed out on a picnic, make sure your diaper bag is packed with extra nourishment for baby (and you!) to prevent dehydration.
The countdown is on to Memorial Day and the unofficial start of summer! By following these tips, you'll be prepared for a safe and fun summer with your family.